Carpenter Ants in Vancouver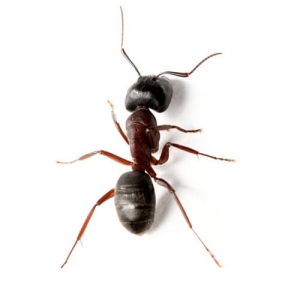 Are there Carpenter Ants in Vancouver BC? Carpenter ants are the largest, black ants seen from March through to summer in Vancouver, North Shore, Whistler, Squamish and throughout the lower mainland. A second species of carpenter ant also seen throughout the northwest is similar in size but has a distinct red middle section with a black head and thorax like the more common Modoc.
There are usually 4 distinct members of a nest: winged males, winged females, major workers and minor workers. Sizes range from 0.5″ minor workers to 1″ winged females.
Carpenter Ants in Vancouver Frequently nest in moisture-damaged wood inside houses and rotten stumps, trees, retaining walls, etc… around the property.
If you are further away, you can order Wilson's AntOut ant killer from our online store.
Schedule a Carpenter Ant Service Call
Click Here to schedule your FREE Carpenter Ant inspection today!
Find out more about Solution Pest Control Ant Control Services.
Solutions Pest Control – Key Takeaways
Pest Education Experts
Ask Us Anything
Our knowledgeable pest experts are ready to answer your questions (during office hours). We are happy to talk to people and walk them through the steps to identify the pest issue and determine if a service call will give them peace of mind.
We will spend the extra time needed to educate you on the signs and characteristics of the most common pests.
Pest Control has as much to do with Education as it does with Eradication.
Jason Page, President of Solutions Pest Control