Are you looking for the best way to get rid of bed bugs? Did you know there is a non-chemical, non-toxic bed bug treatment solution that kills bed bugs with just one treatment? Solutions Pest Control offers the solution to effective bed bug detection and elimination with bed bug heat treatments in Vancouver.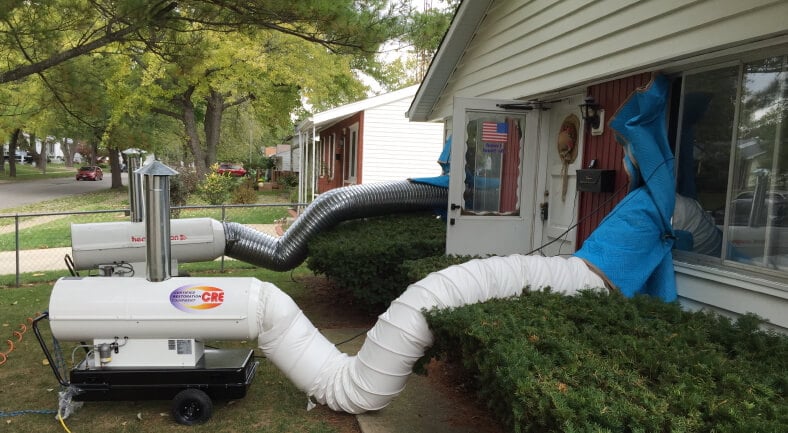 Bed bugs are reaching epidemic proportions in Vancouver, as more and more people are struggling to get rid of them, but having surprisingly little success. Up until now, your only choice of dealing with a bed bug infestation was limited to using pesticides— but that is the case no more!
Did you know that bed bugs are resistant to many chemicals? It's true. Pesticides are losing their potency, forcing many to search for new ways to treat bed bugs. Here at Solutions Pest control, we are pleased to offer a safe and effective bed bug heat treatment solution in Vancouver. Say goodbye to chemicals, lengthy 'prep' time, additional treatments, and best of all, nasty bed bug bites.
Why choose heat?
Heat treatments are the latest, most effective weapons in the fight against bed bugs. Our heat treatment is a safe and eco-friendly approach to getting rid of bed bugs in just one treatment. Unlike other methods, heat penetrates deep into the tiniest cracks and crevices, leaving bed bugs nowhere to hide.
We use specialized heating equipment that heats up an infested area to a lethal dose (125-135 degrees; 52-65 degrees C). With our advanced heat treatments, we can kill 100% percent of the bed bugs, from eggs to full-grown adults.
What are the benefits of bed bug heat treatment?
Eradicates all of the bed bug growth stages, including the eggs
Involves no poisons, no insecticides, and no chance of bed bugs coming back
Eliminates bed bugs without harming the environment
Takes only one day and only one treatment
Offers a cost-effective way to get rid of bed bugs
Provides an alternative to chemical options
Penetrates deep into furniture, clothing, walls, floors, ceilings, and all other
areas where bed bugs hide and pesticides can't reach
Won't leave behind any visible residue or foul odour
Comes with a Treatment Guarantee of up to 90 days
Where can bed bug heat treatments be used?
Here at Solutions Pest Control, we are pleased to offer our clients cutting edge technology for pest control companies in Vancouver, we provide a no-obligation bed bug heat treatment estimate. Available throughout the Greater Vancouver area, our safe and eco-friendly bed bug services are perfect for:
Single dwelling residential homes
Multi-family homes like townhomes
Apartment and Condominium Housing
Educational Institutions
Hospitality Properties
Healthcare Facilities
Food Service Locations
And More!