Looking for assistance with Pest Control in West Vancouver?
Do you have a pest problem in West Vancouver? Thanks to Solutions Pest Control, there's no need to panic. We have over 18 years of experience removing pesky critters, quickly and thoroughly! If insects and wildlife are keeping you awake at night, our knowledgeable exterminators will provide the perfect pest control solution. Don't let nasty vermin take over your home or business. From ant and bed bug treatment to wildlife and rodent removal—think Solutions Pest Control for all your effective and eco-friendly pest control West Vancouver.
Pest Control Issues in West Vancouver
West Vancouver is home to some of the most breathtaking scenery you'll find anywhere. With panoramic views of the ocean and mountains, endless lush forests, and a stone's through away to three ski areas, it comes as little surprise why so many people want to live in this spectacular, sought-after district. But all the natural beauty comes at a cost. West Vancouver is also home to an abundance of pests—all itching for the chance to overrun your property and ruin your investment.
Customized West Vancouver Pest Control Services
When it comes to getting rid of rodents and insects, no two pest problems are alike. If you have furry, feathered, or multi-legged tenants nesting in your West Vancouver home or business, we have effective, customized pest control maintenance programs to meet your unique needs. When it comes to a pest-free property, Solutions Pest Control is only a phone call away.
West Vancouver Pest Control ServicesGot pests?
With Solutions Pest Control, you won't for long. We use state-of-the-art technology and IPM (Integrated Pest Management) treatments to handle all your pest problems. Our trained exterminators will diagnose your issue and provide you with the best possible pest control options, helping you take back your West Vancouver home or business. We offer a host of pest control services, including:
Eco-friendly Solution to Pest Control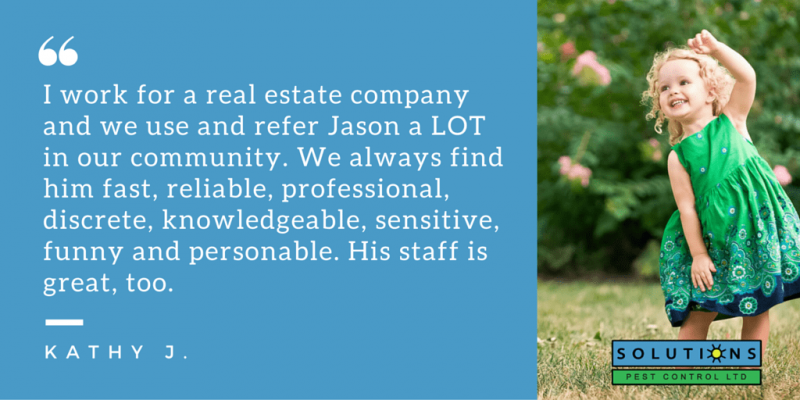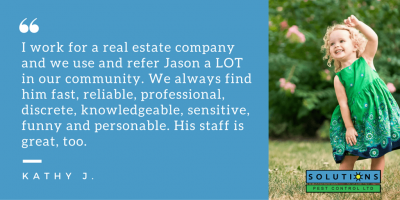 Like West Vancouver residents, Solutions Pest Control cares about the environment. That is why we use a wide range of alternative pest control methods and non-toxic products that will eliminate rodents and insects, without harming Mother Earth in the process.
Our eco-friendly approach to pest control is not only safe for the environment, but also harmless to you, your family, and your pets.
Solutions To Your Pest Control Issues
Solutions Pest Control is one of the most respected and reliable pest management companies. Our goal is to protect your health and your property from harmful insects and rodents while helping to preserve the environment. We use all the latest techniques and innovative technologies to detect, manage, and eliminate pests, delivering fast, effective results every time.
Our team is ready to solve your pest issues. If you have a pest problem in West Vancouver, call Solutions Pest Control today at call 1-855-858-9776.
Or Schedule a Service Call Now!
Solutions Pest Control – Key Takeaways
Pest Education Experts
Ask Us Anything
Our knowledgeable pest experts are ready to answer your questions (during office hours). We are happy to talk to people and walk them through the steps to identify the pest issue and determine if a service call will give them peace of mind.
We will spend the extra time needed to educate you on the signs and characteristics of the most common pests.
Pest Control has as much to do with Education as it does with Eradication.
Jason Page, President of Solutions Pest Control