Looking for assistance with Pest Control in Coquitlam?
Solutions Pest Control is a name you can trust for pest management in Coquitlam. Our skilled professionals will help protect your home or business by detecting, identifying, and eliminating pests. Don't let your home or business be overrun by rodents, insects, and other vermin. We provide long-term solutions for all your Coquitlam pest removal needs!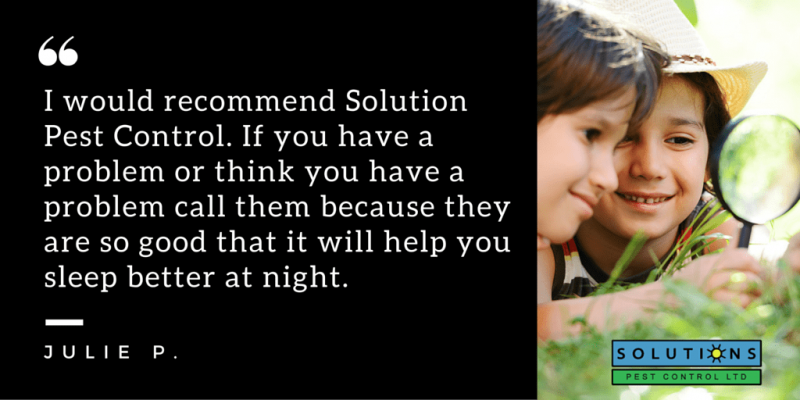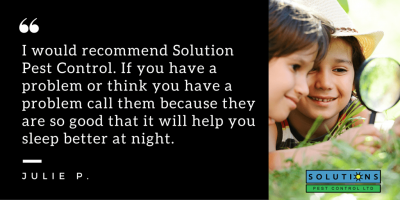 Coquitlam has it all—a booming industry, tons of recreation opportunities, mountains to the north and east, and an abundance of natural wilderness. Sad to say though, living amongst all that natural beauty comes at a cost. The great outdoors can bring ants, cockroaches, rats, mice, and other unwanted pests inside your home or business in search of food and shelter.
If you are looking for quality and affordable pest control Coquitlam, here are just some of the reasons why the residents of Coquitlam choose Solutions Pest Control for their pest problems:
Over 17 years of excellent pest control and wildlife experience
A+ Rated with the Better Business Bureau (BBB) of BC
A team of Professionally Trained Specialists
Licensed, Certified, and Fully Insured Local Company
Your First Choice for Coquitlam Pest Control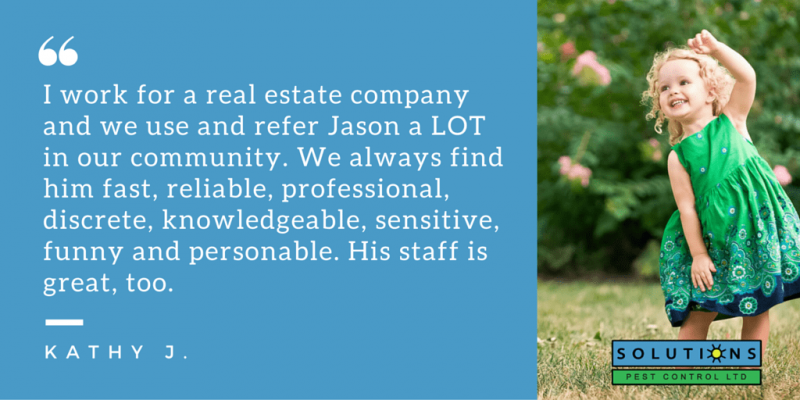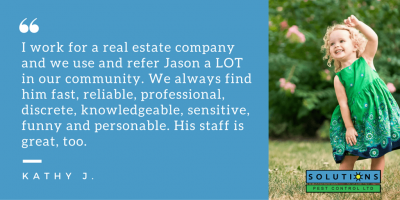 At Solutions Pest Control, we customize our services to find the most effective methods that best fit your needs. We provide environmentally-friendly pest control services that are safe for you, your family, and your pets. Whether you have a minor rodent issue or a full-blown insect infestation, we are here to handle all your pest problems, thoroughly and safely.
Our Coquitlam Pest Control Services
Trust Solutions Pest Control to eliminate a wide variety of common pests. Learn about our services in:
Solutions To Your Pest Control Issues
Solutions Pest Control is one of the most respected and reliable pest management companies. Our goal is to protect your health and your property from harmful insects and rodents while helping to preserve the environment. We use all the latest techniques and innovative technologies to detect, manage, and eliminate pests, delivering fast, effective results every time.
Learn more about our pest control services in Coquitlam!
Our team is ready to solve your pest issues, call Solutions Pest Control today at call 1-855-858-9776.
Or Schedule a Service Call Now!
Monthly Pest Control Solutions – Key Takeaways
We offer a variety of pest control services reliably every month across from Squamish to Langley. View some of the location highlights to learn what popular critters you might find in your specific region.  We keep the pests away for good! Pest Control issues can vary slightly depending on how close you are to water. Learn more about the monthly pest control services for stratas, commercial buildings, home care, restaurants, and office buildings.
Vancouver Monthly Pest Control Services
We work closely with strata and property managers across Vancouver to deter pests and critters from settling into this port city port. With the water's edge around a large portion of Vancouver, rodents naturally are drawn to the shoreline and become a regular habitant and nuisance.
North Vancouver Monthly Pest Control Services
North Vancouver is no stranger to rodents, critters, and wildlife. They attract the rats and mice from the port and proximity to water and then the wildlife can naturally find themselves attracted to the smell of city life and the comforts of warm attics and garages.
Squamish Monthly Pest Control Services
With the abundance of wilderness all around Squamish and also the port terminal located on the district's border edge. Rodents like rats, mice, raccoons, and wildlife find warmth from the winter in crawl spaces, attics, garages, and cellars.
Richmond Monthly Pest Control Services
Richmond is a lovely urban environment that supports rodent lifestyles. Being a port city, the rats and mice easily find shelter, warmth, and food supply from local residents, and garbage cans.     
Coquitlam Monthly Pest Control Services
Seeing the trend here? Another port city with easy access to garbage bins and warm dry shelter away from the consistently wet outdoor conditions that naturally occur in our region. Speak to the experts about monthly pest control services in your city. We service Squamish to Langley residents and businesses!
Pest Education Experts
Ask Us Anything about our monthly pest control services
Our knowledgeable pest experts are ready to answer your questions (during office hours). We are happy to talk to people and walk them through the steps to identify the pest issue and determine if a service call will give them peace of mind.
We will spend the extra time needed to educate you on the signs and characteristics of the most common pests.
Pest Control has as much to do with Education as it does with Eradication.
Jason Page, President of Solutions Pest Control