Looking for assistance with Pest Control in Vancouver?
Looking for effective pest control in Vancouver? Our team of certified exterminators has proven time and time again to offer the best pest control Vancouver services.  Have nasty urban pests removed quickly and reliably? We use environmentally-friendly, non-toxic pest control solutions, designed to protect you, your family, and your property from unwanted critters and insects. If your home or business has become a haven for nuisances, we have the skill and the experience to handle all your problems with pest control Vancouver.
Pests Control in Vancouver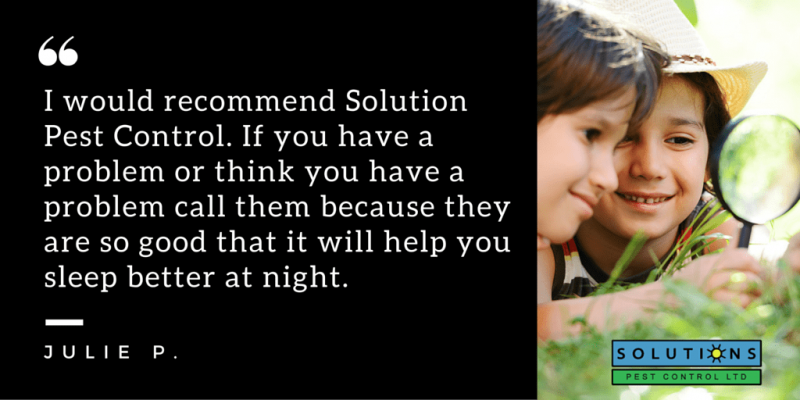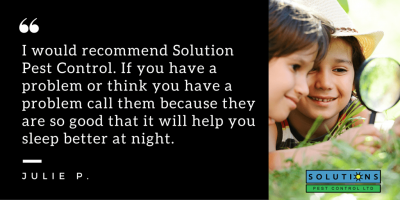 Year after year, Vancouver is voted one of the most livable cities in the world—and for good reasons! Nestled on the shores of the Pacific Ocean, surrounded by rugged mountains and endless beaches, not to mention its great shopping, world-class restaurants, and plenty of recreation, it is no wonder why Vancouver is such a sought after place to live.
With its countless parks, natural beauty, and all the conveniences that come with a modern urban area, Vancouver also attracts more than just human visitors. Whether it is rodents scampering around your attic, termites making a meal out of your foundation, or bed bugs infesting your home, once pests find their way into your property, it is going to take a lot more than an eviction notice to get rid of them.
That's when it's time to contact one of Vancouver's most preferred and trusted pest control companies—Solutions Pest Control. We are a locally owned business offering over 18 years of experience, with proven results and a long list of satisfied customers. Our highly qualified exterminators use the latest technology and a wide range of effective integrated pest management programs, resulting in pest-free properties in Vancouver and the surrounding areas.
Eco-friendly Pest Control Vancouver
At Solutions Pest Control, we understand how much you care about the environment. Our team of fully insured, licensed specialists use a variety of eco-friendly pest control options to rid your Vancouver home, commercial, or industrial property of urban critters. Our green pest control methods are not only harmless to the environment, but also completely safe for children and pets. When it comes to safe and effective results, we deliver non-tonic pest control solutions, tailored to meet your needs.
Bed Bugs are a huge problem in Vancouver
You might be aware of the website called the 
bed bug registry
. Before you move into a place you can check online to see if the apartment building or area is infested with bed bugs.  You will want to learn all you can about your new home so that you can prepare for the worst or avoid the problem completely. Bed bugs are a nuisance and they can be difficult to get rid of. If you start finding small bites on your body it might be time to start learning more about bed bugs. Learn about what it may mean if you are 
waking up with bites
 on you.
Bed bugs continue to be a problem in high-density housing.  This problem will continue to rise as more and more apartments are built. Solutions Pest Control has a variety of bed bug treatment services to remove bed bugs from furniture, your bed, or entire apartment. If you woke up with bites then connect with us to learn what about what types of bug this might be.
Learn about Mice Control Vancouver services
Mice and rats are a common problem in the cities and Vancouver is no exception. Cities that live on the edge of the ocean or ports normally have an abundance of mice and rats patrolling the streets and alleys in the night.  Experienced mice control Vancouver services remove the mice or rat problem that you may be experiencing to return your home to the safe haven that you long for.
Mice can carry diseases that can make humans sick and they cause damage to infrastructure by chewing into walls and the wiring in your home.  Mice and rats search for a comfortable place to sleep that is warm, dark, and close to abundant food sources around them. With many homes in Vancouver being pet-free, the mice and rats are free to roam and procreate with the absence of a cat to prowl for them in through wee hours of the night making mice control a serious concern for Vancouver homeowners. Learn more about our services in mice control Vancouver.
Speak to us about pest control services Vancouver
Pests can come in many shapes and sizes. Once a pest has crossed the barriers into your home, it is essential to start looking for appropriate pest control services to remove it. At Solutions Pest Control, your pest problem is our pest problem. That's why we offer a wide range of Vancouver pest control services, including:
Solutions To Your Pest Control Issues
Solutions Pest Control is one of the most respected and reliable pest management companies. Our goal is to protect your health and your property from harmful insects and rodents while helping to preserve the environment. We use all the latest techniques and innovative technologies to detect, manage, and eliminate pests, delivering fast, effective results every time.
When you are looking for reliable pest control companies in Vancouver, contact Solutions Pest Control to speak to us about your pest problems. Our experienced team is ready and willing to rid your home or office of pests so you can sleep better and reside in a healthy environment.
Call Solutions Pest Control today at call 1-855-858-9776.
Or Schedule a Service Call Now!
Monthly Pest Control Solutions – Key Takeaways
We offer a variety of pest control services reliably every month across from Squamish to Langley. View some of the service highlights to learn what popular critters you might find in Vancouver.  We keep the pests away for good! Vancouver Pest Control issues can vary slightly depending on how close you are to water.   
Vancouver Monthly Pest Control Services
Seeing the trend here? Another port city with easy access to garbage bins and warm dry shelter away from the consistently wet outdoor conditions that naturally occur in our region. Speak to the experts about monthly pest control services in your city. We service Squamish to Langley residents and businesses with great pest removal options! Learn more about monthly pest control services for commercial business owners, strata councils, home care providers, and restaurants.
Pest Removal Education Experts
Helping You Find A Solution to Bird Control On Your Property
Our knowledgeable pest experts are ready to answer your questions (during office hours). We are happy to talk to people and walk them through the steps to identify the pest issue and determine if a service call will give them peace of mind.
We will spend the extra time needed to educate you on the signs and characteristics of the most common pests.
Pest Control has as much to do with Education as it does with Eradication.
Jason Page, President of Solutions Pest Control
When you are tired of dealing with the mess and damage caused by birds on your property, it is time to call the experts of bird control in the lower mainland. Solutions Pest Control can help. Our team of bird control experts specializes in humane and effective bird control solutions to keep birds away from your commercial or residential property.
Our clients are our #1 priority. At Solutions Pest control, we will work with you to create a customized plan that is tailored to your specific needs. We know that every customer has different needs and goals, and we take the time to find out what those are before we begin any work. Once we have a solid understanding of what you are looking for, we can match you with the perfect bird control solution that fits your budget and schedule perfectly!