Pavement Ant Identification
Sometimes Called Sugar Ant In Parts of North America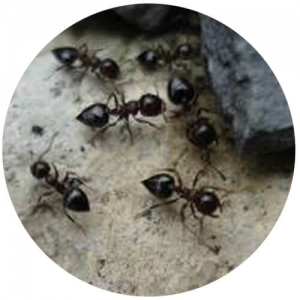 Pavement ants are small, dark brown to black and 2.5 to 3 mm in length. They look like a small carpenter ant with red legs.
Nesting sites include beside and under sidewalks, patio blocks, building foundations, driveways, and landscaping beds. They frequently kick out visible sand and debris from these locations.
Mounds of displaced soil are often observed in areas of their nests. Once inside a building, they can travel along pipes and electrical wires as well as under the edges of carpets.
What To Do If You See Pavement Ants In Your Home?
Clean the area,
put away any food,
take away (remove from your home) any old food containers,
throughly wash the area with mild soap.
DYI Ant Treatment Products
Solution Pest Control offers a variety of ant treatment products you may want to try.
If the ants do not return, you are in good shape. If they are still around, then you may need some help.
Ant Control Treatments
The appropriate treatment for an ant infestation is dependent on many factors including ant species, nest size, location, humidity levels, airflow and season; just to name a few. This blog on Ant Spray Treatments describe a number of treatments that could be used to solve you ant problem..
Why Call A Professional For Ant Control
If your initial DIY ant treatments are unsuccessful, there are a number of good reasons to call for help to deal with ant infestations.
Schedule a Service Call
Click Here to schedule your Pavement Ant Control Service today!
Solutions Pest Control – Key Takeaways
Pest Education Experts
Ask Us Anything
Our knowledgeable pest experts are ready to answer your questions (during office hours). We are happy to talk to people and walk them through the steps to identify the pest issue and determine if a service call will give them peace of mind.
We will spend the extra time needed to educate you on the signs and characteristics of the most common pests.
Pest Control has as much to do with Education as it does with Eradication.
Jason Page, President of Solutions Pest Control