Pavement Ant Identification
Sometimes Called Sugar Ant In Parts of North America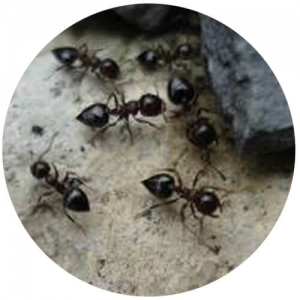 Pavement ants are small, dark brown to black and 2.5 to 3 mm in length. They look like a small carpenter ant with red legs.
Nesting sites include beside and under sidewalks, patio blocks, building foundations, driveways, and landscaping beds. They frequently kick out visible sand and debris from these locations.
Mounds of displaced soil are often observed in areas of their nests. Once inside a building, they can travel along pipes and electrical wires as well as under the edges of carpets.
What To Do If You See Pavement Ants In Your Home?
Clean the area,
put away any food,
take away (remove from your home) any old food containers,
throughly wash the area with mild soap.
DYI Ant Treatment Products
Solution Pest Control offers a variety of ant treatment products you may want to try.
If the ants do not return, you are in good shape. If they are still around, then you may need some help.
Ant Control Treatments
The appropriate treatment for an ant infestation is dependent on many factors including ant species, nest size, location, humidity levels, airflow and season; just to name a few. This blog on Ant Spray Treatments describe a number of treatments that could be used to solve you ant problem..
Why Call A Professional For Ant Control
If your initial DIY ant treatments are unsuccessful, there are a number of good reasons to call for help to deal with ant infestations.
Schedule a Service Call
Click Here to schedule your Pavement Ant Control Service today!
Monthly Pest Control Solutions – Key Takeaways
We offer a variety of pest control services reliably every month across from Squamish to Langley. View some of the location highlights to learn what popular critters you might find in your specific region.  We keep the pests away for good! Pest Control issues can vary slightly depending on how close you are to water. Learn more about the monthly pest control services for stratas, commercial buildings, home care, restaurants, and office buildings.
Vancouver Monthly Pest Control Services
We work closely with strata and property managers across Vancouver to deter pests and critters from settling into this port city port. With the water's edge around a large portion of Vancouver, rodents naturally are drawn to the shoreline and become a regular habitant and nuisance.
North Vancouver Monthly Pest Control Services
North Vancouver is no stranger to rodents, critters, and wildlife. They attract the rats and mice from the port and proximity to water and then the wildlife can naturally find themselves attracted to the smell of city life and the comforts of warm attics and garages.
Squamish Monthly Pest Control Services
With the abundance of wilderness all around Squamish and also the port terminal located on the district's border edge. Rodents like rats, mice, raccoons, and wildlife find warmth from the winter in crawl spaces, attics, garages, and cellars.
Richmond Monthly Pest Control Services
Richmond is a lovely urban environment that supports rodent lifestyles. Being a port city, the rats and mice easily find shelter, warmth, and food supply from local residents, and garbage cans.     
Coquitlam Monthly Pest Control Services
Seeing the trend here? Another port city with easy access to garbage bins and warm dry shelter away from the consistently wet outdoor conditions that naturally occur in our region. Speak to the experts about monthly pest control services in your city. We service Squamish to Langley residents and businesses!
Pest Education Experts
Ask Us Anything about our monthly pest control services
Our knowledgeable pest experts are ready to answer your questions (during office hours). We are happy to talk to people and walk them through the steps to identify the pest issue and determine if a service call will give them peace of mind.
We will spend the extra time needed to educate you on the signs and characteristics of the most common pests.
Pest Control has as much to do with Education as it does with Eradication.
Jason Page, President of Solutions Pest Control